Variable weather is creating extreme challenges for crop breeding in California. How do you develop crops that will thrive under certain conditions when you can no longer predict what those conditions will be?
"Our weather patterns are changing so fast, affecting everything from soil composition to what to expect in terms of weeds, diseases and pests. It can take 10 years to develop a new crop variety, even more for perennial plants," [said Charlie Brummer, professor and director of the UC Davis Plant Breeding Center.]
Changes have already begun, according to Allen Van Deynze, director of research at the UC Davis Seed Biotechnology Center. A spike in insects and the viruses they transmit are threatening vegetable crops in California and beyond.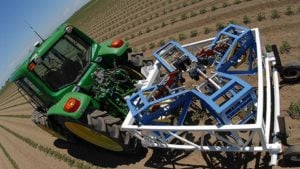 …
Extreme variations in localized weather pose a bigger challenge to breeders than long-term climate shift. If you know weather will trend hotter, you can plan for that. It is the wild swings — the longer droughts and more intense floodings — that are tricky.
…
Breeders and engineers at UC Davis are helping crops keep pace with variable weather by using advanced genetic strategies, developing robotic sensors to measure plant performance, and training the next generation of plant breeders.
The GLP aggregated and excerpted this blog/article to reflect the diversity of news, opinion, and analysis. Read full, original post: Breeding Crops Today for an Uncertain Tomorrow