In 2012, a report claimed that French men were less manly – their sperm counts declined 30% since 1985, it found. A speculative comment by a researcher, that maybe it was 'endocrine disruptors', led environmentalists to declare that pesticides were turning French men into slightly less manly French men. There was no evidence for it, but activists often look for problems to match to their solution so they jumped on the result. Anti-agriculture people blamed pesticides, anti-smoking people blamed cigarettes, anti-alcohol people blamed too much wine, etc.
It may be they had lost sperm count because they ate too many vegetables. Or at least vegetables with not enough pesticides.
It's not a secret that vegetarians have lower sperm quality than people on a normal diet and a new report added evidence to earlier findings. A retrospective study led by Dr. Eliza Orzylowska of Loma Linda University Medical Center and discussed at the 70th Annual Meeting of the American Society for Reproductive Medicine used semen analyses of 26 vegetarians, 5 vegans, and 443 meat eaters between 2009 and 2013 found that vegetarians and vegans have significantly poorer sperm concentration and motility than people on a normal diet. They weren't infertile, but their boys were just not as robust.
Does that explain the French? Perhaps. The authors of the 2012 paper did a new study in 2014 and said they factored out things that could also be impacting French sperm, like cigarettes and alcohol. What did environmentalists claim must be the culprit? You guessed it; pesticides again.
Except pesticide use has gone down in France, not up. 1985 was just a few years removed from peak pesticides in agriculture – 1979 showed 1.46 billion pounds of pesticides used per year worldwide. The United States leads the world in food production and reached its pesticides peak in 1981, with 632 million pounds, but now yields are dramatically higher while pesticide use is lower. Companies in that business have had flat revenues for years.
Where I live, in California, wine grape pesticide use has declined almost 25% since the 1980s, though business is bigger than ever.
That drastic decline is not just in overall usage, it is also in detection in samples: Today pesticide residues are much lower than in the past, a scant one-half of one percent of tests show levels above tolerance, and studies in both Canada and the US show that high levels of pesticide residues are more likely to be in organic food than conventional.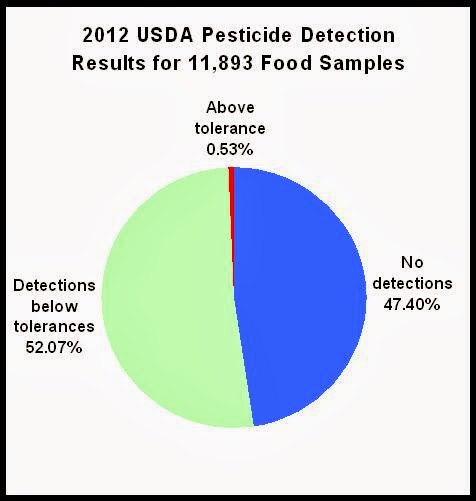 What does that drop in pesticide use correlate to, if we are doing a retrospective epidemiological paper? The drop in French sperm quality.
So, extending the often bizarre logic of campaigning advocacy groups, if you want to have more kids, you should eat more meat…and if you must eat vegetables, make sure you eat the ones grown using pesticides.
Hank Campbell is president of the American Council on Science and Health(ACSH) and founder of Science 2.0. He's an award-winning science writer who has appeared in numerous publications, from Wired to the Wall Street Journal. In 2012 he was co-author of the bestselling book Science Left Behind. Follow him on Twitter @HankCampbell.