Articles written for the GLP list the source as
Genetic Literacy Project
. All other articles were written for the sources noted with excerpts provided by the GLP.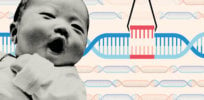 Here's a provocative headline and subhead from OneZero, a publication by Medium, above an article by Emily Mullin published on August 17: Men Are ...
[Palantir] has been hired and has assigned 45 staff to a project "designed to predict surges in NHS demand during the ...