As scientists around the world work at an unprecedented pace to develop a vaccine for COVID-19, anti-vaccine proponents are planting ...
[There's] a remarkable new alliance between the anti-vaccine movement and black leaders in Colorado. Among those who testified against [a ...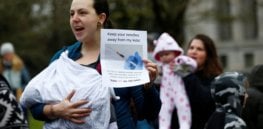 If you are reading this, chances are that you repeated an anti-vaccine myth or said you weren't vaccinating your children, ...
About 1 in 15 US parents (6.1%) is hesitant about routine childhood vaccines, and more than 1 in 4 (26%) ...
This war could pit public health officials and politicians against an anti-vaccination movement that floods social media with misinformation, conspiracy ...
As scientists work to create a vaccine against COVID-19, a small but fervent anti-vaccination movement is marshalling against it. Campaigners ...
As millions of families face back-to-school medical requirements and forms this month, the contentiousness surrounding vaccines is heating up again, ...
On June 5, the number of measles cases in the U.S. this year passed 1,000, a milestone the country last ...
Vaccine opponents often share a conviction that the health care system is more interested in profits and power than helping ...