The COVID-19 pandemic is increasing public interest in local food production, which may boost consumer acceptance of the insect-resistant genetically ...
The Open Forum on Agricultural Biotechnology (OFAB), a biotechnology informative platform, says Nigeria could rake in 638 million dollars in ...
I haven't wanted to plant cowpea here in Nigeria because the plant suffers from one of the worst enemies imaginable: ...
Nigeria has reached a major food security milestone with the commercial release of insect-resistant cowpea — its first genetically modified ...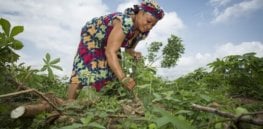 Protecting health and and food security is best done through dialogue and education, not threats and smear campaigns ...
Cowpea is a critical crop in Western Africa. It is consumed by millions of people daily and provides important nitrogen ...
A crop created through technology faces intense opposition in Nigeria ...