[A new] estimate [suggests that 20 million Americans have been infected with COVID-19,] roughly 10 times as many infections as ...
To stretch beyond the lab, test developers are racing to produce next-stage technologies that could allow for rapid widespread testing ...
In response to calls for Covid-19 testing of the entire U.S. population, several large universities, and even some employers, have ...
PCR testing isn't perfect, but it's seen as the most accurate form of testing available for viruses. Unfortunately, it takes ...
Right now, [coronavirus] gene tests—the most accurate kind—are run only in labs or on special hospital instruments. But [biotech entrepreneur ...
In South Korea, health officials are trying to solve a mystery: why 163 people who recovered from coronavirus have retested ...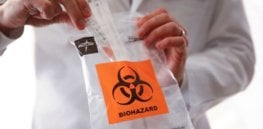 Amidst a slew of shortages and logistical hurdles, American researchers are now slowly rolling out two crucial and very different ...