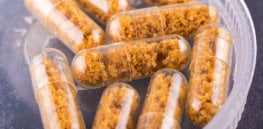 Fecal transplants carry a certain ick factor for many people. But there is a legitimate medical use for them -- ...
One patient has died and another became seriously ill after fecal transplants inadvertently seeded their innards with a multi-drug resistant ...
Fecal transplants are slowly becoming a more effective, and more palatable option for various gut disorders, such as IBS or ...
Scientists often seem to be on a quest for sacred chalices or sterling ammo. But a group of microbiologists has ...