Researchers at the State University of New York College of Environmental Science and Forestry (ESF) have developed Darling 58 American ...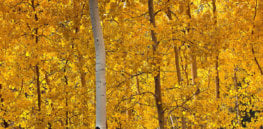 Hybrid aspen, a crossing between European and American aspen, is one of Sweden's most productive tree species which grows better ...
The landscape of Iceland has changed a lot in a thousand years. When the Vikings first arrived in the ninth ...
A group of leading forest biotechnology scientists from around the world call for the reassessment of all sustainable forestry certification ...
Many Americans know the sad tale of how the American chestnut tree was driven almost to extinction in the 20th ...
A coalition of forest scientists, including Steve Strauss of Oregon State University, is calling for an immediate review of international ...
Oregon State's Steve Strauss reviving forests using GM technology ...