The California-based company unveiled its latest product on [Nov 18]: meatless minced "pork." The new product is intended to mimic ...
[Impossible Foods'] flagship imitation beef product went on sale in 200 supermarkets across Hong Kong and Singapore on Tuesday. Impossible's ...
.... Impossible Foods, makers of the Impossible Burger and other plant-based meat alternatives, are working on another food replacement that ...
Author and animal-rights activist Jonathan Safran Foer [author of the book Eating Animals] recently argued in a New York Times ...
As more meat plants temporarily close or operate at reduced capacity as coronavirus spreads, plant-based brands "have a window of ...
New data released by The Good Food Institute (GFI) and the Plant Based Foods Association shows U.S. retail sales of ...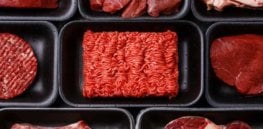 Cargill Inc will launch plant-based hamburger patties and ground "fake meat" products in April, the company said on [Feb. 24], ...
The Center for Consumer Freedom ran a Super Bowl commercial alleging that plant-based meat alternatives are not as healthy as ...
The American food technology company Impossible Foods has applied to the food safety regulator for approval of its genetically engineered ...
Here comes the other faux white meat. Impossible Foods, the brand behind [2018's] Impossible Burger 2.0 craze, captivated the attention ...
Cashing in on rising demand for imitation meat, major retailers including Kroger and Walmart recently began to carry Beyond Meat's ...
Impossible Foods just announced a new product: pork. And thanks to the new fake pork, there's also sausage. It's not ...
Ranchers and their political allies want to brand plant-based foods like the Impossible Burger as inferior imitations, but consumers shouldn't ...
Burger King has a plan to bring in new customers and encourage existing ones to buy more often: Vegetarian Whoppers ...