If you live in the U.S., the last time you ate a salad, the lettuce inside it almost certainly came ...
A car park opposite the infamous New York City housing estate where rapper Jay-Z grew up seems an unlikely place ...
Jonathan Webb's farm doesn't look like much: tawny soil stretching to a line of trees, a trailer with a few ...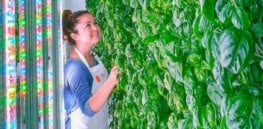 There is substantial interest in growing crops in closed controlled environments, yet the energy requirements are high. Energy is required ...
As the world's population grows and climate change accelerates, farmers are increasingly turning to biotechnology, engineering and data science to ...