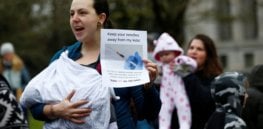 If you are reading this, chances are that you repeated an anti-vaccine myth or said you weren't vaccinating your children, ...
[W]hen the Olympics are being broadcast, I transform into an armchair commentator, catching a full-blown case of what I like ...
Due to popular demand (well, two polite requests, actually), I have decided to create a clean version of my post ...
Determining who is an authoritative figure worth amplifying is more challenging than ever. Curated, personalized feeds enable bespoke realities. Trump ...
A pandemic was declared. Italy is on lockdown, with more cases than China. Other countries are following suit. Governments everywhere ...
Dr. Jay Gordon (who usually likes to be called "Dr. Jay") and I go back a long time, ever since I ...
Cancer is oppressive and all-pervasive: half of us alive today will experience a direct brush with it. But despite its ...