The COVID-19 vaccine was developed faster than any other vaccine in history, which has caused some concern to those that ...
More than 20 coronavirus vaccines are in human testing, according to the World Health Organization. So far, small, early studies of most ...
Vaccines are designed to produce immune-system agents, including antibodies, that lock onto a virus and thereby neutralize it. In cases ...
As the days unfold with a seeming sameness in this odd summer of the pandemic, news of vaccine clinical trials ...
[E]arly results, published in the New England Journal of Medicine on [July 14], showed that [Moderna's COVID-19] vaccine worked to ...
Three companies with funding from the US government—AstraZeneca, Johnson & Johnson, and Moderna—are on track to distribute the first commercial ...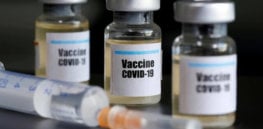 The federal government plans to fund and conduct the decisive studies of three experimental coronavirus vaccines starting this summer, according ...
Patients in clinical trials are usually faceless. But as the experimental Covid-19 vaccine being developed by Moderna Therapeutics has begun ...
Moderna, the Massachusetts biotechnology company behind a leading effort to create a coronavirus vaccine, announced promising early results from its ...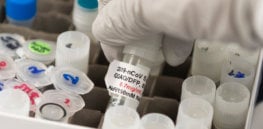 A vaccine for COVID-19 has entered Phase 1 of clinical trials in Seattle. How was it made? And how likely ...
Moderna has become the first company to release a potential coronavirus vaccine, with the Boston-based biotech start-up announcing on Monday ...