[E]arly results, published in the New England Journal of Medicine on [July 14], showed that [Moderna's COVID-19] vaccine worked to ...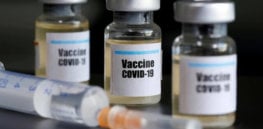 The federal government plans to fund and conduct the decisive studies of three experimental coronavirus vaccines starting this summer, according ...
To stretch beyond the lab, test developers are racing to produce next-stage technologies that could allow for rapid widespread testing ...
It sounds like the U.S. Department of Health and Human Services has become completely dysfunctional. The Secretary, Dr. Azar (ex-lobbyist ...
The nearly 200,000 Americans who have trusted federal scientists with their DNA, their medical records, and detailed behavioral surveys will ...
Some [clinical trials] plan to ask participants to pay $7,000 or so to enroll. Another wanted to ask for upward ...
The hard-to-define and hard-to-diagnose condition continues to baffle researchers searching for its root causes -- and potential treatments ...
If we aggregated all the data from countless years of research, might we learn something new about ourselves, the diseases ...
For more than a decade now, two scientists–one in the U.S. and one in the Netherlands–have been trying to create ...