The Dutch explorer Jakob Roggeveen may not have arrived on Easter Island until 1722 but new genomic evidence finds that the Rapanui people living there had traveled plenty without contact with Native American populations hundreds of years earlier – and they did it using nothing but canoes.
An article in Current Biology is the first genetic support for such an early trans-Pacific route between Polynesia and the Americas, an impressive trek of more than 2,500 miles).
Archaeological evidence had suggested that 30 to 100 Polynesian men, women, and children first landed on Easter Island, also known as Rapa Nui, around AD 1200, arriving in two or more double-hulled canoes. After settling on the isolated island, the Rapanui famously built giant stone platforms and over 900 statues, some weighing as much as 82 tons.
While it may have taken weeks for Polynesians to reach even the closest nearby islands, there are hints of contact with the larger world. For example, there is evidence for the presence of crops native to the Americas in Polynesia, including the Andean sweet potato, long before the first reported European contact.
Genome-wide analysis of 27 native Rapanui now confirms significant contact between the island people and Native Americans sometime between approximately AD 1300 and AD 1500, 19 to 23 generations ago. The Rapanui population began mixing with Europeans only much later, in about 1850. The ancestry of the Rapanui today is 76% Polynesian, 8% Native American, and 16% European.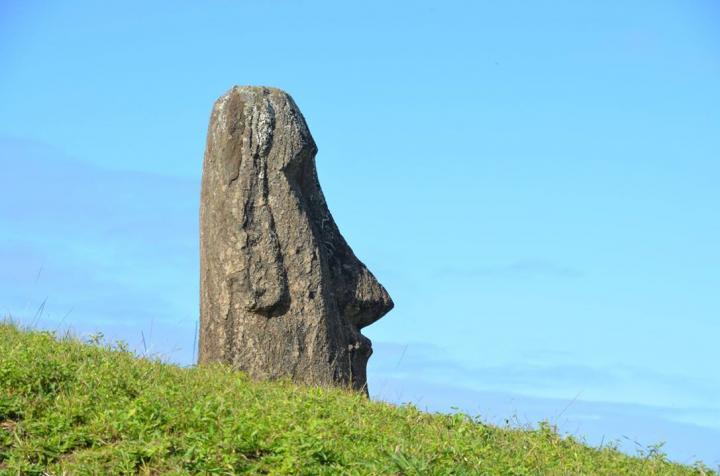 The findings are a reminder that "early human populations extensively explored the planet," says Anna-Sapfo Malaspinas from the Natural History Museum of Denmark's Centre for GeoGenetics. "Textbook versions of human colonization events—the peopling of the Americas, for example—need to be re-evaluated utilizing genomic data."