It's discouraging how often public debates over controversial genetics and biotechnology issues – from stem cell research, epigenetics and "three parent babies" to GMO foods, pesticides and environmental conservation – can descend into shouting matches between interest groups.
Where are the voices of independent scientists? Of the real experts who study these issues?
Genetic Literacy Project, along with numerous other independent outlets carry the voices of scientists willing to engage on issues, but for every expert who reaches out and communicates to the public, many more voices are never heard. That narrows the range of expertise available to the public and everyone suffers.
Beginning just this month, a newly launched project, seeded by the GLP but operating independently and in association with the Institute for Food and Agricultural Literacy at the University of California, Davis, the Genetic Expert News Service(GENeS) aims to bring to journalists, policy makers, NGOs and the public easily accessible expert opinion on breaking genetics and biotechnology news.
Last week, a group of experts from European national academies issued a report concluding that a group of pesticides known as neonicotinoids, which has been linked in some studies to a decline in bee populations, are having wider effects on ecosystems and questioned whether the substances have a place in sustainable agriculture. This was the kind of story that activists and industry could very well spin, based on their own needs.
But how reliable was the report? How solid is the science? Did the conclusions align with findings from other independent research organizations? In other words, is this news? And what do independent experts say?
Journalists rushing to make deadlines or develop stories are faced with these kind of questions, often multiple times each week. Where can they turn for quick, independent context?
That's where GENeS comes in. Shortly after the release of the report GENeS issued comments from a range of scientist to its expanding list of journalists. It also posted the comments on our new website, geneticexperts.org, so anyone and everyone can access them.
Some of the scientists' comments endorsed the European group's findings; others were sharply critical. Each scientists supplied context for his or her comments.
So where did GENeS stand? We had no horse in this race and never take a position on studies or stories that we solicit expert comment on. Our only goal is to seek robust scientific opinion and to present it, unadulterated, to journalists and others committed to conveying that information to a news hungry public.
On such topics the debate can run away from the evidence and the grounding that science can give, and the worst-case scenario finds researchers facing hostility to their field. This is just one pressing problem GENeS will aim to tackle by providing a new forum for scientists to make their voices heard on current issues.
The media, whether traditional, new or social, plays a vital role in framing hot topics, and framing public attitudes. There's a lot of great science journalism these days, but as physician and science writer Ben Goldacre puts it: "it's hard to reverse a scare story once the toothpaste is out of the tube." With this in mind, we will focus on getting expertise out to journalists before any distortions of the science can crystallize.
What is a "GENeS" type story?
Take the case of mosquitoes genetically engineered to combat the spread of dengue fever. When news broke that the FDA was considering an application by British biotech company Oxitec and the Florida Keys Mosquito Control District to run a trial release of the mozzies, news articles and TV reports were filled with references to 'mutants' and 'Frankensteins'. Newspaper headlines screamed 'Genetically modified killer mosquitoes may attack Florida Keys' (even in the well-regarded Washington Post).
This kind of hyperbolic coverage snowballed from an Associated Press piece featuring a Key Haven, Florida resident asking, "Why are we being used as the experiment, the guinea pigs, just to see what happens?" In the media rush to follow up on the story, it was the fears of residents against the assurances of Oxitec that became the narrative, against a backdrop of the GMO debate, with the opinions of independent scientists on whether the mosquitoes could actually pose any real risks playing second fiddle.
GENeS is designed for exactly this kind of breaking story. We would kick into action, identifying relevant experts at research institutions across North America and proactively sending out their expertise to journalists and making it available to everyone online.
This fast turnaround sourcing of scientific expertise from multiple sources has proven to have an impact on highly charged, headline grabbing stories. In 2013, for example, European headlines were dominated by the horsemeat scandal in the UK, after horse DNA was found to be widespread in supermarket meat products. The media latched on to whether the carcinogenic veterinary drug phenylbutazone (bute) could have made its way into the food chain.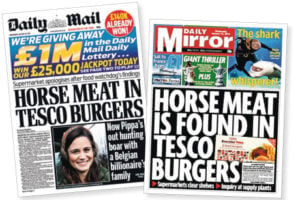 At the height of the story the Science Media Centre, whose basic outreach model GENeS emulates, pumped out clarifying and contextualized information from food safety experts. Their comments quelled fears by pointing out that the maximum concentrations of bute that might possibly have made it into food products were far too small to have health effects. The bute scare faded and the focus shifted elsewhere.
While individual academic research institutions do a fantastic job of putting their researchers in touch with journalists on current issues, it is the range of expert voices that GENeS is in a unique position to provide, and can be very powerful. And if we succeed, we could help change how controversial science stories are reported.
For example, compare how the horse meat scandal was covered in the UK versus how the Ebola scare played out in the U.S. The question of whether the virus could mutate and go airborne was visited in the press again and again, despite virologists considering this extremely unlikely. The scare story overwhelmed the consensus science, which often didn't get a mention.
How does GENeS choose which research stories to cover?
GENeS will not just focus on headline dominating stories. We monitor and feed into the weekly diet of research news from hundreds of scientific journals. By publishing a range of third party expertise on new studies, GENeS will help put research into a wider scientific context and provide a resource for time pressed reporters faced with a press release and a deadline.
GENeS focuses on genetics stories with human, medical, agricultural or environmental angles which need careful reporting. Last week we looked at new research on a gene known to be associated with eating disorders, which found that mice who had the gene 'knocked out' displayed anorexia-like behavior. Does this mean that we are close to showing that anorexia is "in our genes" and a therapy may be in the offing?
The researchers we contacted found the results compelling but said it is far too early to draw implications from these preliminary rodent studies for people with anorexia. In other words, an over-interpreted story from the study might have made a click generating headline, but it wouldn't have been accurate reporting. GENeS sent out our findings to journalists, embargoed, before the study was even released, then posted the expert comments online:
Providing an agenda-free service
GENeS will also take direct inquiries from reporters looking for experts to consult or interview for a story. And we want to make our service as open as possible, so policymakers, commentators, NGOs and any organization or individual engaged in public debates on genetics and biotechnology issues can use us to find robust scientific expertise.
GENeS is uniquely positioned to provide an agenda-free venue for scientists to get their voices heard in public. Seed funding comes via the three foundations and trusts that support the Genetic Literacy Project and from the Institute for Food and Agricultural Literacy at the University of California, Davis. Eventually, we hope GENeS will have its own funders, but rest assured that GENeS is an editorially independent project, with no editorial guidance from the GLP or from UC-Davis.
Who am I? My name is Robin Bisson, and I'm the founding director of GENeS. Our offices are in Washington, D.C., and as a new organization we are looking to expand our networks of researchers, journalists and public information officers. So please do get in touch if you want to know more about collaborating.
Our underlying philosophy is that the best evidence should underpin wider social debates about science and technology, and that scientists are uniquely placed to provide that evidence. One of our key aims is to encourage more scientists to get involved in public discussions and not leave it to groups who may hold commercial or ideological values above scientific accuracy. And we're looking forward to getting stuck in.