Restoring ecosystems on just 15 percent of the world's current farmland could spare 60 percent of the species expected to ...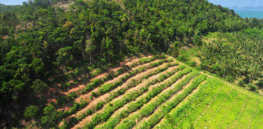 Viruses that jump from animals to people, like the one responsible for COVID-19, will likely become more common as people ...
A biotech tree could simultaneously increase and decrease the wildness of a forest ...
Changing climates and pathogens threaten forests. Biotechnology could help, if regulators get out of the way ...
Globally, forest trees are increasingly at risk from habitat destruction .... But the guidelines for effective preservation of a tree ...
New research suggests the removal of timber harvest residue during harvesting may be a boon for wild bees, an important ...
In the 1850s, a team of botanists venturing into the cloud forest in the Quijos Valley of eastern Ecuador hacked their way ...