Articles written for the GLP list the source as
Genetic Literacy Project
. All other articles were written for the sources noted with excerpts provided by the GLP.
Ottawa-Federal Appeal Court Justice Richard Southcott has dismissed an application by environment groups challenging a 24 month phase out of ...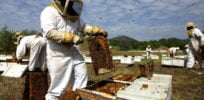 A proposed replacement for a key neonicotinoid pesticide is proving unpopular with everyone — including farmers and beekeepers. Farmers adopted ...