Articles written for the GLP list the source as
Genetic Literacy Project
. All other articles were written for the sources noted with excerpts provided by the GLP.
Great Britain is in great trouble....it's running out of pollinators. The Center for Ecology & Hydrology measured the presence of ...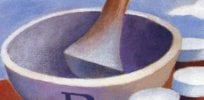 An international team of researchers .... plans to fight HIV using only cereal; namely, rice. In a new paper, they ...