Articles written for the GLP list the source as
Genetic Literacy Project
. All other articles were written for the sources noted with excerpts provided by the GLP.
Novel biotechnology, like genome editing, holds tremendous potential to improve animal health, enhance farm productivity, improve nutrition, and even reduce ...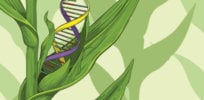 Scientific advances in biotechnology, such as genome editing and synthetic biology, hold enormous potential to improve human and animal health, ...