Articles written for the GLP list the source as
Genetic Literacy Project
. All other articles were written for the sources noted with excerpts provided by the GLP.
How much genetic privacy is a consumer entitled to? Congress is now pondering federal privacy rules that probably will address ...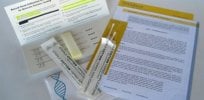 [One] DNA test found that my family's dog, Teddy, is part pit bull, which comes as no surprise. Many rescue ...