Articles written for the GLP list the source as
Genetic Literacy Project
. All other articles were written for the sources noted with excerpts provided by the GLP.
The government is set to provide .... the initial BT cotton seeds to farmers to plant during the forthcoming March/April ...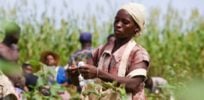 A genetically modified cotton seed variety with high resistance to the Boll worm infestation is due to be released to ...