Articles written for the GLP list the source as
Genetic Literacy Project
. All other articles were written for the sources noted with excerpts provided by the GLP.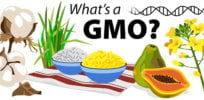 The organic food lobby has been successfully demonizing safe and effective biotechnology for the last two decades. Part of their ...
Gilles-Éric Séralini is a French researcher who came to fame from publishing a study in 2012 claiming that herbicide-tolerant GMO corn, with ...