Articles written for the GLP list the source as
Genetic Literacy Project
. All other articles were written for the sources noted with excerpts provided by the GLP.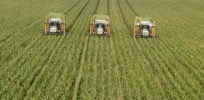 Biodiversity across the globe could be in a worse state than previously thought as current biodiversity assessments fail to take ...
An estimated $130 billion worth of crops are lost every year to diseases caused by nematodes. Targeting the harmful nematodes ...