Vlaams Instituut voor Biotechnologie
Articles written for the GLP list the source as
Genetic Literacy Project
. All other articles were written for the sources noted with excerpts provided by the GLP.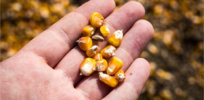 On April 12, 2019 [the Vlaams Instituut voor Biotechnologie in Belgium] was granted a permit for its field trial with ...
[Editor's note: This is an excerpt from an extensive, open access series of reports on the safety of GMOs produced by ...