Articles written for the GLP list the source as
Genetic Literacy Project
. All other articles were written for the sources noted with excerpts provided by the GLP.
[Editor's note: Andrew McGuire is an agronomist at Washington State University's Center for Sustaining Agriculture and Natural Resources.] At the core ...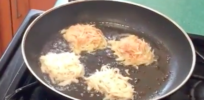 Plant pathologist Dr. Steve Savage, does a cooking demonstration using conventional potatoes and GMO non-browning potatoes to make hash browns. The GMO ...