In September, a preprint appeared online with the startling results from a study of covid-19 antibodies in blood-bank samples from ...
After decades of research into the cellular basis of chronic pain, [pharmacologist Peter] McNaughton believes he has discovered the fundamentals ...
What causes ASD has baffled psychiatrists and neurologists since the syndrome was first described, in the mid-20th century, by Hans Asperger and ...
Sex is how humans propagate. But developments in genetic engineering might change this one day. "We are, in the future, ...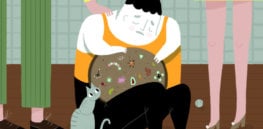 Autism affects people's social behaviour and communication, and may impair their ability to learn things. All this is well known. Less ...
[On June 19, IBM] announced that it had brought us one step closer to "real AI" (an intelligence as smart as ...