The landscape of Iceland has changed a lot in a thousand years. When the Vikings first arrived in the ninth ...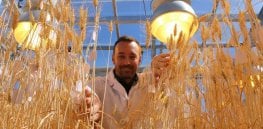 These technologies could be game changers in the world of plant breeding ...
HudsonAlpha Institute for Biotechnology teamed up with several partners in a series of research collaborations, grants, and projects. Their mission: ...
An international group of scientists led by Rothamsted Research and the John Innes Centre have opened the door to healthier ...
New research from UC Riverside identifies a protein that controls plant growth -- good news for an era in which ...
We unearth the story of Edith Rebecca Saunders, co-founder of The Genetics Society and the 'mother of British plant genetics' ...
Researchers have developed a method with which they can further investigate an important messenger substance in plants -- phosphatidic acid ...
Plant Science reports that OsNCED5 gene regulated tolerance to water and salt stress, as well as leaf aging in rice ...
Researchers at North Carolina State University have developed portable technology that allows farmers to identify plant diseases in the field ...
Hidden underground networks of plant roots snake through the earth foraging for nutrients and water, similar to a worm searching ...
An open-source RNA analysis platform has been successfully used on plant cells for the first time -- a breakthrough that ...
[K]eeping pace with global cravings can be a tall order for chocolate producers — a challenge made even tougher as ...
Our increased understanding of plant genetics has potential to help smokers quit and provide patients with the medicinal benefits of ...