If you spent 30 minutes per day showering and applying products, over the course of a long life—100 years, for ...
The ultimate goal was to develop an instrument that mimicked the abilities of a dog's nose—a tool to detect the ...
In the spring of 2014, Dominique Berry went to see her doctor to have an irritating skin condition examined. During ...
Most of the academic research on breastfeeding focuses on early-life outcomes—infections, for example, in the time period in which you ...
The following is an excerpt of The Disordered Mind: What Unusual Brains Tell Us About Ourselves by Eric Kandel.  We are all ...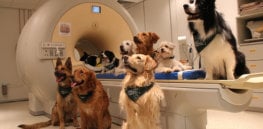 If dogs could talk, what would they say about us and the way they see the world? Just how do dogs think? ...