Articles written for the GLP list the source as
Genetic Literacy Project
. All other articles were written for the sources noted with excerpts provided by the GLP.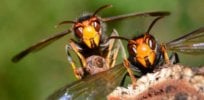 An Asian hornet sighting has been confirmed in Cornwall, sparking a hunt for the honey bee killer's nesting sites. The ...
The following is an excerpt. A clinical trial using a patient's own immune system to produce remissions in adults with ...