Articles written for the GLP list the source as
Genetic Literacy Project
. All other articles were written for the sources noted with excerpts provided by the GLP.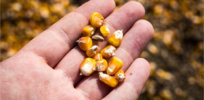 DP23211 maize was genetically modified (GM) to express .... protein for control of corn rootworm. DP23211 maize also expresses ...
A battle is being waged in Oregon's grocery stores, wheat and sugar beet fields, restaurant tables and pantry shelves. The long-simmering ...