Articles written for the GLP list the source as
Genetic Literacy Project
. All other articles were written for the sources noted with excerpts provided by the GLP.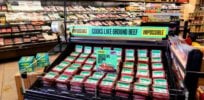 Vegan meat brand Impossible Foods closed a $500 million funding round. Since its founding in 2011, the Oakland, California-based brand ...
Vegan cheese isn't what it used to be. The products of yesteryear had a reputation for being plastic-y slices with ...