Articles written for the GLP list the source as
Genetic Literacy Project
. All other articles were written for the sources noted with excerpts provided by the GLP.
Natural News has nearly 3 million Facebook followers, more than Infowars and Alex Jones combined before Facebook banned them from ...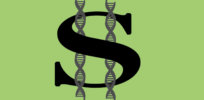 [I]f a new startup is successful, you will soon be able to spit in a cup, upload your genetic code ...