Articles written for the GLP list the source as
Genetic Literacy Project
. All other articles were written for the sources noted with excerpts provided by the GLP.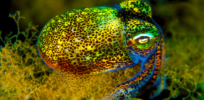 Every evening, nocturnal Hawaiian bobtail squids ... emerge from their burrows in shallow waters of the Pacific to hunt for ...
Despite the dwindling number of giant pandas, researchers think the species has more genetic diversity than some other endangered animals ...