Articles written for the GLP list the source as
Genetic Literacy Project
. All other articles were written for the sources noted with excerpts provided by the GLP.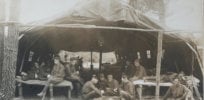 Shell shock ultimately sent 15 percent of British soldiers home. Their symptoms included uncontrollable weeping, amnesia, tics, paralysis, nightmares, insomnia, heart ...
In the past 12 months, four clinical trials launched in the United States to use CRISPR to treat and potentially cure patients ...