Articles written for the GLP list the source as
Genetic Literacy Project
. All other articles were written for the sources noted with excerpts provided by the GLP.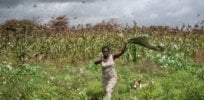 A perfect storm of conditions led to the locust attack currently tearing through East Africa and Pakistan, where countries are ...
[Nteranya Sanginga is director general of the International Institute of Tropical Agriculture.] The role of genetic engineering in agriculture and ...