Food & Environment Reporting Network
Articles written for the GLP list the source as
Genetic Literacy Project
. All other articles were written for the sources noted with excerpts provided by the GLP.
The need for a backup bee has become critical, particularly in almond orchards. Almonds are California's second-largest crop, injecting an ...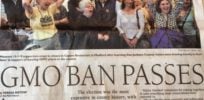 With little notice, more than two dozen state legislatures have passed "seed-preemption laws" designed to block counties and cities from ...