Articles written for the GLP list the source as
Genetic Literacy Project
. All other articles were written for the sources noted with excerpts provided by the GLP.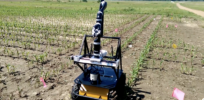 The AI in agriculture market was valued at USD 600 million in 2018 and is expected to reach USD 2.6 ...
Greg Guenther is now an enthusiastic user of genetically modified seed, despite steering clear of it in the mid-1990s, having ...