Articles written for the GLP list the source as
Genetic Literacy Project
. All other articles were written for the sources noted with excerpts provided by the GLP.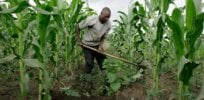 A joke that is going around refers to non-governmental organizations (NGOs) as "nothing going on." My experience over a 15-year ...
Ghana has prided itself over the years with agriculture being the key backbone of its economy. But for a long ...