Radio Canada International
Articles written for the GLP list the source as
Genetic Literacy Project
. All other articles were written for the sources noted with excerpts provided by the GLP.
A bio-tech firm established in the maritime province of Prince Edward Island has created a [genetically modified] salmon that grows ...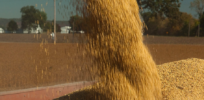 The GLP aggregated and excerpted this blog/article to reflect the diversity of news, opinion and analysis. The national association representing ...