The short answer to the question – how do you boost your immune system – is that you can't. The ...
Michael Reiss, a professor of science education at University College London and an Anglican Priest, suggests that "we need to ...
For more than a decade now, two scientists–one in the U.S. and one in the Netherlands–have been trying to create ...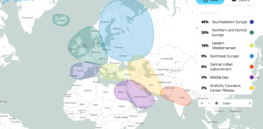 Everyone who received DNA test kits during the holiday season has hopefully spit or swabbed and mailed and is now ...
An intriguing phenomenon has emerged in recent years: among very old people, the rate at which people die appears to decline when ...
Lots of sites, including three scientific societies, have rejected the new Health and Human Services guidelines that provide a classification of ...
One year ago, in October 2017, astronomers detected the first confirmed interstellar visitor to our solar system – an asteroid dubbed Oumuamua ...
Earlier this year I wrote about two ways of looking at the probability of there being advanced alien civilizations – the ...