Genomics researchers worldwide are increasingly dealing with vast data sets gathered by consortia spanning many countries. Most are unclear on ...
An algorithm that can spot cause and effect could supercharge medical AI. The technique, inspired by quantum cryptography, would allow ...
DNA is designed to keep lots of data in a tiny space for an extremely long time. But the best ...
Apps spell big business in the healthcare industry: Dozens of apps are marketed to people with conditions including depression, anxiety ...
If we aggregated all the data from countless years of research, might we learn something new about ourselves, the diseases ...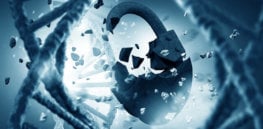 Legal experts, biologists and policy analysists are calling for DNA data regulation, but the cat is already out of the ...
If we are nothing more than the sum of our memories and our experiences, how much of ourselves do we ...
Over the past few years, many [DNA testing companies] have branched out into the realm of precision health, treading into ...
Case Study 1: The Sharing Project … [Jinghui Zhang wondered] how much faster cancer research could move if data sets ...
The field of paleobiology has advanced paleontology by using big data to analyze the history of life ...