Upon learning that one of the ways they could effectively deal with the challenge of the fall armyworm was using ...
Most Malawians, 80 per cent of the population, are subsistence farmers, depending on agriculture for survival. After harvesting, many farmers ...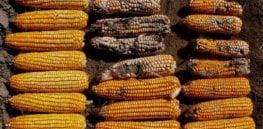 For 83-year-old Florence Wambui Theiru, a life of farming in Central Kenya has been a sweet and sour journey. Over ...
As locusts rage in the biggest attack for 25 years, the majority of Kenyans will never have seen the like ...
A hungry caterpillar that ravages crops is advancing across China and threatening the nation's vast supply of maize. Scientists are ...
The fall armyworm is hungry, on the move and scaring farmers the world over. The crop-devouring pest has spread from ...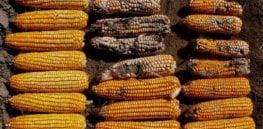 Tanzania's second year of confined field trials of genetic modified maize is bearing fruit, as the crop has significantly shown ...
Fall armyworm (Spodoptera frugiperda), an invasive insect which had severely affected maize crops in Africa has now spread to fields ...
[T]he fall armyworm, an invasive crop pest .... has now been officially confirmed for the first time on the Asian ...
Farmers at Janga in the West Mamprusi municipality of the Northern Region [in Ghana] are learning how to use drones ...
Oxitec's Simon Warner: Engineered male fall armyworms contain a gene that prevents female offspring from reaching adulthood, reducing wild pest ...