Corporations and activists from the left and the right are abusing open records laws to harass public university researchers. A ...
A closer look at how money influences science ...
Dennis J. Ventry Jr., a law professor at the University of California, Davis, drew the ire of tax preparation companies ...
In the contentious arena of livestock breeding and biotechnology, Dr. Alison L. Van Eenennaam has emerged as a tireless advocate for getting ...
Some bad ideas have originated in America. Reality television, spray-on cheese, pineapple pizza, and deep-fried Hostess Twinkies come to mind. But the ...
Transparency helps scientists earn public trust. But what happens when their research requires confidentiality? Kevin Folta and Paul Vincelli tackle ...
Why did the University of California reject a Freedom of Information request for an "anti-chemical" professor's emails, while handing over ...
A trove of new emails tied to former professor Charles Benbrook shines an ethically harsh light on the journalistic ethics ...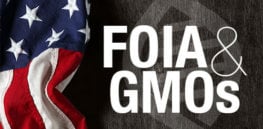 USRTK has wielded FOIA requests as a weapon to bully scientists. Michelle McGuire, a globally respected nutrition expert, is the ...
A several months ago, scientists came under attack using the Freedom of Information Act. Scientist Kevin Folta tweeted this graphic that has ...