There are reasons to think the novel coronavirus began spreading earlier than previously understood, raising the possibility that herd immunity ...
[A] study of more than 60,000 people estimates that around just 5% of the Spanish population has developed antibodies, the ...
[One of my patients has] tested positive for SARS-CoV-2, the virus that causes Covid-19, for a second time — three ...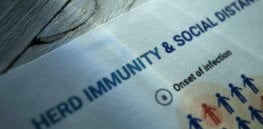 [A] lot of nuance is involved in calculating exactly how much of the population needs to be immune [to COVID-19] ...
Herd immunity is when a virus can no longer spread easily because enough people are immune to it. That lowers ...
With government support, three coronavirus vaccines are expected to be studied in large-scale clinical trials in the next three months ...
[G]etting to herd immunity without a vaccine isn't as simple as the idea itself. A number of variables can affect ...
For weeks, the most pressing policy challenge has been relieving the life-and-death pressure on our hospitals. But all that justifiable ...
During the opening phases of the coronavirus pandemic, government officials in the UK drew scorn from health experts after suggesting ...
I am deeply concerned that the social, economic and public health consequences of this near total meltdown of normal life ...
The 2017-2018 flu season is being called the worst since 2009 by the Centers for Disease Control and Prevention, and ...