Articles written for the GLP list the source as
Genetic Literacy Project
. All other articles were written for the sources noted with excerpts provided by the GLP.
There are reasons to think the novel coronavirus began spreading earlier than previously understood, raising the possibility that herd immunity ...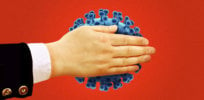 Does a pandemic demand the strong medicine of censorship? Social-media companies seem to think so. They're taking steps to control ...