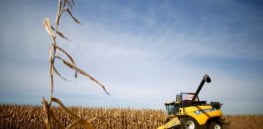 Mexico's president, Andrés Manuel Lopez Obrador, issued a decree that has U.S. agriculture worried. The decree bans glyphosate, a herbicide, ...
[Former FDA] Commissioner Scott Gottlieb is questioning FDA Commissioner Stephen Hahn's comments about fast-tracking a coronavirus vaccine, stating that a full approval of a ...
The World Health Organization (WHO) [March 11] finally declared the coronavirus from China that rapidly spread across the world a pandemic ...
The founder of one of the nation's largest conversion therapy programs, who spent decades leading the organization, now says he ...
Genetic testing companies are forming a new coalition on best practices for handling DNA information and to promote the industry ...
He [Jiankui] attempted to disable a gene called CCR5 by producing a variant that has been shown to confer resistance ...
That many forests in the United States are suffering health crises is not in question. Much of this troubling condition, ...