Advances in human enhancement make cyborgs a future possibility ...
There's something that feels a little scary about augmented humans and it's because we've seen all these films of these ...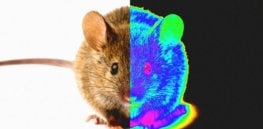 [Researchers Tian Xue and Gang Han] modified the vision of mice such that they were able to see near-infrared light ...
[I]n the next decade, the phrase ["have and have nots"] might mean "modded or unmodded"—as in, "have you been modified?" ...
Within the next 200 years, humans will have become so merged with technology that we'll have evolved into "God-like cyborgs" ...