Mexico is the center of origin for maize, and there is a substantial interest in protecting the genetic integrity of ...
Robert Kafeero Sekitoleko is an engineer, legislator and chairperson of the Sectoral Committee on Science and Technology in Uganda's Parliament ...
Mary Yangi trekked a long journey from South Sudan to Uganda's West Nile region to settle as a refugee and, ...
While many studies show that genetically modified crops contribute to yield gains, GMO critics say that they don't. Such claims, ...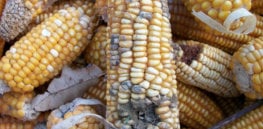 Aflatoxins are responsible for hundreds of millions of dollars in crop losses annually. Farmers have struggled to control the troublesome ...