The public still accepts some blatant untruths about biotechnology, food safety, and sustainability ...
This judgment raises serious and important questions ...
Mutagenesis is a process where new strains of food and products are created using chemicals and radiation in the lab ...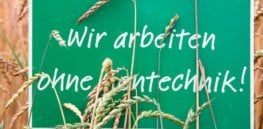 According to research by [Germany's Free Democratic Party] and the genetic engineering-friendly association "Forum Grüne Reason" (FGV), many foods labeled ...
Crops and foods today are not what they used to look like. Farmers and plant breeders have been modifying plant ...
USDA's Sid Abel and Doug McKalip just briefed me on the new regulatory framework that is shaping up for the ...
The European Court of Justice has made an important ruling on genetically modified crops. Since 2003, new crop varieties produced by ...
What's a Frankenfood? If science matters, it's not food with ingredients whose genes have been precision modified ...
As the debate over GMOs has gone viral, city-dwellers often position themselves as experts on farming. But there's often a ...