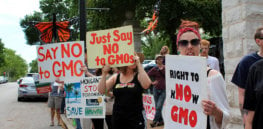 A 20-public median of 48% say genetically modified, or GM, foods are unsafe to eat, while a much smaller median ...
U.S. adults overwhelmingly say houses of worship should be required to follow the same rules about social distancing and large ...
A new Pew Research Center survey finds that many Americans can answer at least some questions about science concepts...The survey, ...
I have complained often about the lack of horizontal polling for public acceptance of genetically modified food – where the ...
This one question is an effective test of scientific ignorance ...
A new opinion poll suggests that Russian trolls, aided by anti-GMO groups such as the Center for Food Safety and ...
A new Pew survey found that acceptance of use of GMOs crops and pesticides depended far more on education and ...